GOAL:  Youth have access to mentors, role models, and enrichments outside of the school day in a safe environment which enhances: personal growth, character development and academic achievement.
SUCCESS STORY
In the fall of 2019, teen Club member "Joe" was an angry young man that would go from 0-100 in a matter of seconds. If a staff member addressed him about inappropriate behavior or offensive language, he would react volatilely. He was failing classes at school and having difficulty with authority figures at home, school, and Club. Joe was reprimanded three times in the fall of 2019 for inappropriate language and non-compliance with adults. He was enrolled in the mentoring program and began working closely with a staff member. His grades started to improve immediately and his behavior at Club was less and less explosive. By the fall of 2020, he had come leaps and bounds from the Joe we knew. He is approachable and respectful. He has passing grades and he has not had any further behavior challenges at the Club. He was nominated for and received the student of the month award at his school. We are proud of how far Joe has come.  Boys and Girls Club staff have helped him create a positive change for his future.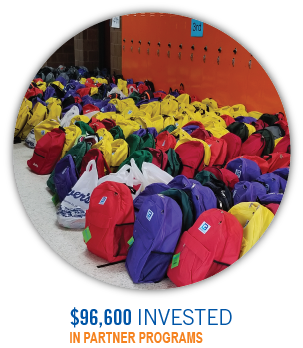 LOCAL RESULTS
125 area teens attended the Teen Job Fair in 2021 where over 25 employers were on hand to offer employment opportunities. 
$8,300 was invested by Women United in 7 literacy programs at local elementary schools in 2020.
216 activities were completed in the Youth Success and Early Years Coalitions Cabin Fever Challenge in February 2021.
Source:  Youth Success Coalition, Women United, United Way of South Wood & Adams Counties
SUPPORTING INFORMATION
Young adults who face an opportunity gap - but have a mentor - are 81% more likely to participate in sports or extracurricular activities.
In south Wood County, 1 out of 6 children are not reading at the proficient level in fourth grade.
Children learn an average of 4,000 to 12,000 new words a year from reading books.
Source:  The Mentoring Effect 2014, Women United, Scholastic  
MORE LINKS